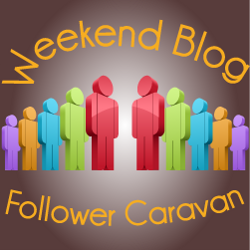 It time again for the Weekend Blog Caravan and for this week we are following fellow bloggers via Google Friend Connect. This week's rules are simple.
Make a post with our WBFC Badge to welcome all our participants.
Make sure it has links to this week's sponsors: Coffee on the Side and Walking Newspaper.
Follow Everyone via Google Friend Connect (mine's on the sidebar)
Leave a comment at our participants welcome post that you have followed their blog via GFC to follow you back.
And this is the part of shameless self promotion (again). If it's not too much of a hassle kindly subscribe to my feeds via email, don't forget to confirm. Google +1 my blog, like my FB fan page and follow me on Twitter, I'll do the same. I'd put the buttons below except for the GFC which is on my sidebar, to make it easier for you.Like this blog.
Google +1 my blog
Follow me on Facebook.
Follow me on Twitter

Do not forget to comment on where will I go to return the deed.

Like this post? Subscribe to this blog by clicking
HERE.

Be a fan of Prosti on Facebook. Follow me on Plurk and Twitter.
For any questions please feel free to contact me here
.